Eng. D B Rampala Memorial Oration
By PUBLICITY DIVISION (IESL)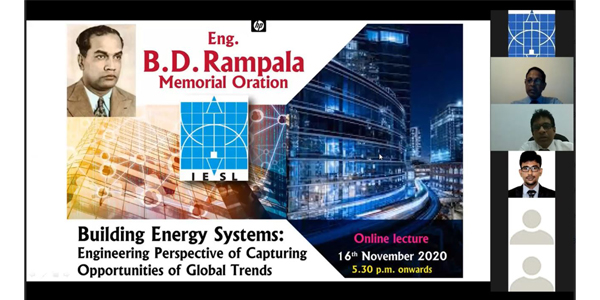 The annual event organized by the IESL mechanical engineering sectional committee, Eng. D. B. Rampala memorial oration was held on 16th November 2020 from 5.30 PM via the an online platform. There were more than 200 participants, one of the highest ever attendance recorded for a online memorial lecture.

The oration was delivered by Eng. (Prof) Rahula Attalage on the subject "Building Energy Systems: Engineering Perspective of Capturing Opportunities of Global Trends".

The event was attended by Eng. K. P. I. U. Dharmapala- President of the IESL, Eng. A. Manmperi- President-Elect, Past Presidents of the Institution, Eng. Lasantha Ekanayake-Chairman of Mechanical Engineering Sectional Committee, Relatives of Eng. D. B. Rampala, Eng. N. Abeysekera - CEO/ Executive secretary of IESL, a large number of members and non-members.