EDITORIAL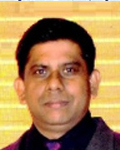 Eng. Suran Fernando  
New Beginning in the 'New Normal'
Dear Members & Readers,
The battle against Covid-19 crisis is far from over. The term 'crisis' derives from the Greek verb 'krisis', meaning judgment or decision. Obviously, this is the time to make decisions that will bring exponential positive outcomes to the community.

Covid-19 brought a bundle of new challenges and opportunities to the engineering fraternity. Engineers could make a significant contribution to bring a revival in many important areas. In order to do that the contribution of the engineers must be enhanced to a level of several folds as of now. IESL should act as a facilitator to the engineering fraternity to guide them towards the correct direction.

In this exercise IESL official newsletter will essentially be a key mediator between IESL and its membership. Since 2013, 'Digital SLEN' has been in existence and in circulation as the digital version of the IESL Official Newsletter. Over the years SLEN has evolved to greater heights. As its 50th publication (Gold Anniversary) is due in January 2021, SLEN editorial team proposes several further improvements to its content and outlook.

We are committed to publish the Digital SLEN on a monthly basis and it will be set to release on the 10th day of each month from this publication onward. In order to offer an enhanced digital experience to the readers, it is decided to increase and improve the multimedia content of the newsletter in par with the advancement of the technology. We are planning to introduce recorded audio interviews with eminent engineers and non-engineers in each publication which is a trend in the modern international digital magazines. Several brief audio recordings (called 'Podcasts') will be published in each issue starting from SLEN-50. We invite the members who have skills in the areas of video/ audio recording and editing, professional artwork etc. to join us to improve the quality of the Newsletter.

Thus, it is planned to introduce a section which contains an article by (or an interview with) an eminent and well respected non engineering professional in the country on a current topic. We are also keen to publish the national level contributions of IESL and IESL's appearances in public media under a dedicated section.

The facility to share the relevant SLEN articles, news items etc. on other professional networks and on social media (LinkedIn, Twitter, Facebook, E-mail etc.) will be offered to the readers. An online survey will be immediately carried out to explore the expectations and opinions of the readers to fine-tune our way forward. Our expectation is to increase the readership of Digital SLEN by several folds within a year and to upgrade it to a level of a national engineering newsletter in future.

The SLEN editorial team wishes that these improvements will further strengthen the relationship between you and IESL.
Wish you all the best!
Eng. Suran Fernando
Editor, SLEN