YMS 'Talk to University' at the University of Ruhuna
By YMS (IESL)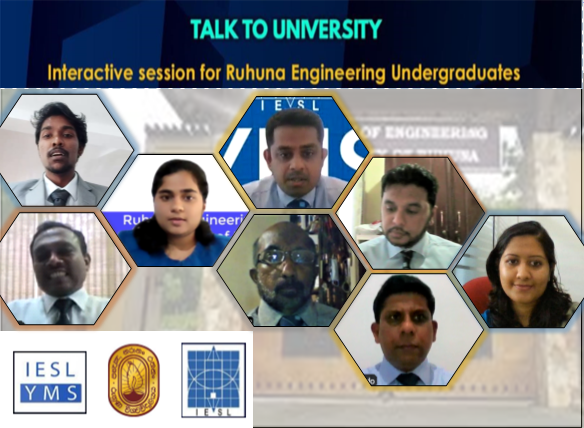 The IESL Young Members Section (YMS) kick started the New Year 2021 by conducting the Talk to University program with the IESL University of Ruhuna Student chapter. Talk to University program is conducted to strengthen the knowledge of engineering undergraduates towards the industry and their professional career. This can be considered as an attempt to groom professional engineers even before they graduate from universities. The session was conducted fully online via the Zoom platform on 17th January 2021 from 3.00 p.m. to 5.30 p.m.

Dr. Harsha Sooriyarachchi, the Dean, Faculty of Engineering was the chief guest of this glamorous event. He shared his vision towards engineering education with initiating a Marine Engineering course as an Engineering Degree Programme in the University of Ruhuna and his mission to continue introducing well-demanded career paths in the world to Sri Lankan university students. Also, he appreciated the work of the IESL and IESL Young Members Section.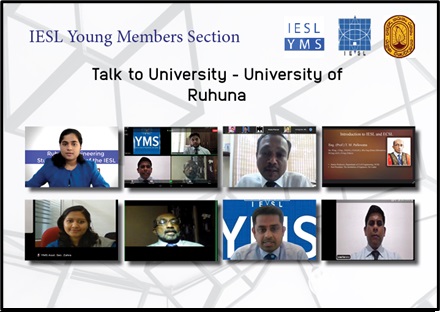 The "Introduction to IESL and ECSL" session was conducted by Eng. (Prof.) T.M. Pallewaththa, Past President of IESL. He explained about the history and establishment of the Institution of Engineers Sri Lanka, the Engineering Council of Sri Lanka, and their contribution to developing engineering education in Sri Lanka.

Eng. Suran Fernando, A Council member of IESL shared his experience, contribution, and his voluntary efforts to uplift the standard of the society as an Engineer in the session "The role of an engineer in society". Furthermore, he emphasized how engineers should make efforts to build the country. He also shared his efforts and challenges of changing the AC system in IDH hospital with the IESL Building Services Sectional Committee when the Covid 19 pandemic started to spread within Sri Lanka.

The sessions were followed by a Q & A which was moderated by the Eng. Thilina Dissanayake. The event was concluded by Dr. Sujeewa Wimalasena, University Liaison officer for the University of Ruhuna, and the vote of thanks was delivered by Mr. Dasun Weerathunga. There were over 100 participants from the University of Ruhuna. IESL President-Elect. Eng. Arjuna Manamperi, Eng. P.W. Sarath, Eng. Kamala Gunawardena and Council Members of IESL also joined the event and appreciated the efforts of YMS.

The event was a combined effort of IESL YMS and IESL University of Ruhuna Student Chapter. The Chairman of YMS Eng. Damith Dissanayake, Immediate past chairman Eng. Navodana Kankanamge, Eng. Zahra Marzook and all the other executive committee members of YMS and the Ruhuna student chapter chairman and the team gave their fullest support to successfully organize this event.