Scan QR Code at the Entrance to IESL Premises
By PUBLICITY DIVISION (IESL)
Stay Safe! Trace & Beat COVID-19
We are happy to announce you that IESL has implemented the COVID-19 tracking app at IESL premises considering the safety of its members and staff. Now you no longer have to fill the request for information form at the entrance!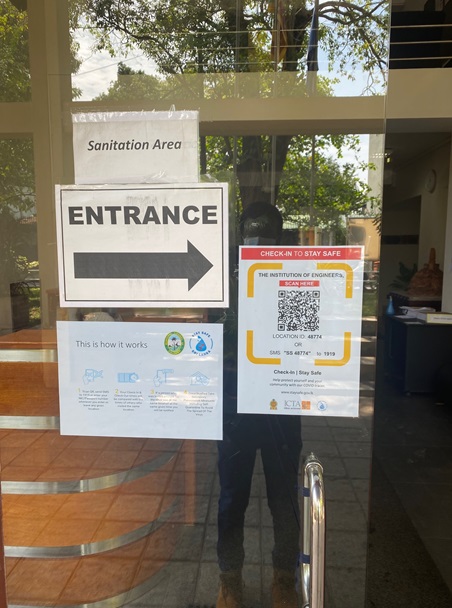 What Should You Do?
Scan the QR code with your mobile phone (You need to have a QR code scanning app installed in your smart phone and an internet connection)
If it is the first time you are using this facility, you will be asked to provide your contact details/ID number etc. Then your mobile number will be verified. From there after you do not have to provide that information. Simply scanning the QR code will record your entry to the IESL premises.
Don't forget to check out when you leave the premises!
Stay Safe App – how does it work?

Stay Safe is a QR-based and SMS-based contact tracing app developed by the ICTA. Whenever you enter or leave IESL premises, you'll be asked to scan a QR code. It would then redirect you to a page where you'll be asked to enter your name and NIC / Passport Number. Alternatively, you can do this same process by sending an SMS to 1919 whenever you enter and leave a location. After details are logged it will be compared with data of other people in the same location at the time. Later, if it was found that 1 of these people tested positive for the coronavirus, then you'll be instantly informed. Afterwards, you'll be directed by the authorities of the necessary precautions to take, including self-quarantine, to limit the spread of the virus.

Your corporation in this is highly appreciated.
Stay Safe!
CEO/ Executive Secretary