EDITORIAL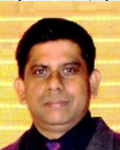 Eng. Suran Fernando  
This Country needs You!
Dear Members & Readers,
The new year 2021 knocked the door in a different way this time. The newer way of doing things in the Covid-19 era has been different from the status quo that we experienced up to the beginning of 2020.

Each sector has a renewed set of duties. The health care workers including physicians, nurses etc. in hospitals are fighting hard to defeat Covid-19 amidst the risk. The contributions of the tri-forces and police are neither limited to ensure national security nor to maintain the rule of order. They also have a major role to play in the battle against Covid-19. Officers in other government authorities are also loaded with a new set of responsibilities.

Engineers are no different. In the exercises of creating a successful vaccine against coronavirus, there is a bigger stake for engineers. Thus, providing the essential infrastructure to the masses with no or lesser interruptions is the duty of the engineers. Essential services including food, water supply, electricity, telecommunication etc. are to be managed properly during these hard times. Each supply chain is to be carefully reengineered to cater for the changes caused by the pandemic. Engineers should discover better alternatives in the 'new normal' in the absence of the previous 'normal' which was within our comfort zone.

Work From Home (WFM) concept becomes the norm in the corporate world where the spread of technology is a vital component. Online meetings have replaced the old-fashioned physical meetings. School children and university students are now used to online education from their homes. This trend demands a rapid spread of the IT infrastructure to every part of the island including remote areas. Engineers are to be the enablers of these advancements.

It's glad to note that several segments of IESL took several positive initiatives to join this national exercise. While IT engineers are developing mobile apps, software to digitalize some essential services, Electrical & Mechanical Engineers are inventing and manufacturing disinfection equipment, clinical equipment like ventilators, ICU beds etc. Building Services Engineers are involved in the development of the MEP services in the hospital wards and ICUs while Civil Engineers develop the hospital infrastructure. The contribution of the engineering students in Sri Lankan universities is also significant.

However, the country is at a critical setback in terms of its economic and sociocultural existence that was aggravated by the effects of the pandemic. Engineers are a party that could make a significant contribution to bring a revival in many important aspects in the country. Smart energy, smart construction, smart transport etc. will be the areas to look at. In order to do that facilitate these the role of engineers must be enhanced to a level of several folds as of now.

The nation expects an extra effort from you at this difficult time! Let us set our mindset to engineer the new normal. This is your call today!
Wish you all the best!
Eng. Suran Fernando
Editor, SLEN
suran.fernando@gmail.com
editor.slen@iesl.lk