Annual General Meeting of IESL Ruhuna Chapter
By PUBLICITY DIVISION (IESL)
Annual General Meeting 2020 of the IESL Ruhuna Chapter was held on 30th December 2020 from 4.00PM to 6.00 PM via Zoom online meeting platform.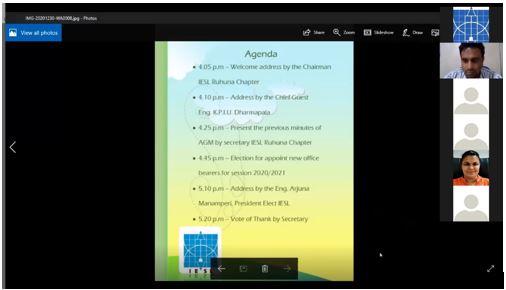 The AGM began at 4.00 PM with the welcome speech by the outgoing chairperson Eng. (Ms.) E. P. A. Sampath. Chairman mentioned that it was the first time that the chapter was organizing a AGM through an online meeting platform and requested the participants' full corporation.

The Chief Guest for the AGM was Eng. K P I U Dharmapala, President of the Institution of Engineers, Sri Lanka. President in his speech mentioned that the chapters are an essential part of the IESL and lots of engineers out stationed are benefited from their activities.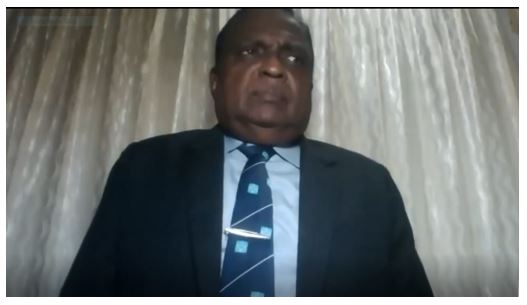 The minutes of the Previous sessions AGM were confirmed, along with the financial statement of the Chapter presented by the treasurer.

There after the new committee members were appointed for the session 2020/2021. Following members were elected to represent IESL Ruhuna Chapter for the session 2020/2021.
Chairman - Eng. Kasun Sandasiri - 0714286192 - kasunsandasiri@gmail.com
Secretary - Eng. Neranjan Hettiarachchi - 0773427527 - hettiarachchin@yahoo.com
Treasurer - Eng. Mihindu Palihawadana - 0714956488 - mihindu06prasad@gmail.com
Eng. Arjuna Manamperi, President Elect of the IESL also addressed the AGM. Eng. Manamperi highlighted the services chapters can do to the betterment and the development of the country.

Annual General Meeting ended at 5.30 PM with vote of thanks.