ASIAN ISTITUTE OF TECHNOLOGY (AIT) HONOURS IESL PAST PRESIDENT ENG. SHAVINDRANATH FERNANDO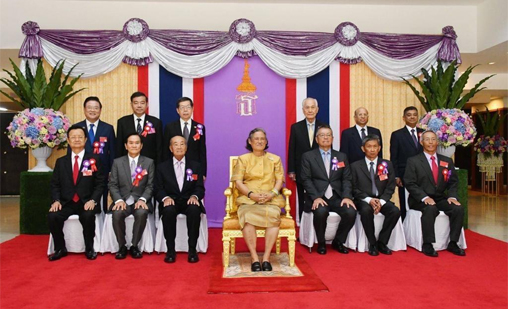 It is with pride that the Institution of Engineers, Sri Lanka (IESL) announces that, on October 24, 2009, the Asian Institute of Technology (AIT) honoured a Sri Lankan, for the first time, by inducting him to the AIT Hall of Fame. This Sri Lankan is none other than Past President IESL, Eng. Shavindranath Fernando, who was among the nine AIT alumni who were inducted into the AIT Hall of Fame that day.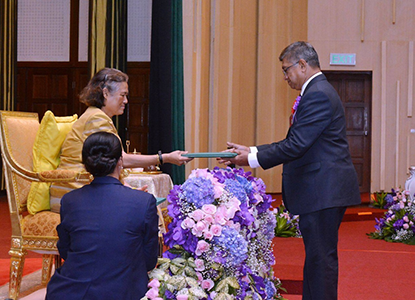 SLEN considers this achievement of Eng. Fernando, inducted to the AIT Hall of Fame, from among more than 24,000 AIT alumni, a rare honour and a pride to IESL.
The Asian Institute of Technology founded in 1959 is an international postgraduate institute, focusing on engineering, environmental, and management studies. Located in Bangkok, it offers its prospective students an opportunity to study at a globally reputed higher education institution. AIT is proud of its internationally recognized graduates who are holding high positions either in their home countries or outside. Across their many walks of life, the AIT alumni have distinguished themselves as CEOs of private and state enterprises, business owners, well respected researchers, senior university faculty and government officials.
There are over 1500 Sri Lankans among the AIT alumni, and they are scattered all over the world holding, very high positions, in the organizations they work. They all have contributed immensely through their services to the public and the community they live, both in Sri Lanka and the countries of their residence.
The AIT Hall of Fame is intended to recognize and honour the accomplishments and contributions of its alumni, who bring pride and inspiration to their professions, society at national, regional, or international levels, and the Asian Institute of Technology.
To coincide with the 51stanniversary of the AIT, the first batch of AIT Hall of Fame Alumni were inducted in 2010. It was the second batch of AIT alumni that were inducted on October 24, 2019, during the 60thanniversary celebrations.
The event was witnessed by a large number of AIT alumni and other dignitaries from around the world, who gathered at AIT to celebrate the 60thanniversary. The main ceremony was presided over by HRH Princess Maha Chakri Sirindhon of Thailand. It is significant that HRH Princess Sirindhon herself is an AIT alumna, who was among the first batch of alumni inducted into the AIT Hall of Fame.
Further, in recognition of the services that Alumni have rendered to their respective countries, the Alumni Association of AIT annually honours as Distinguished Alumni those who have excelled  in the public , business and professional sectors as well as  in the fields of academic and research excellence; rural and community development, and international affairs.
In 2004, Eng. Fernando was also awarded the Distinguished Alumni Award of the AIT Alumni Association in the category of public sector, in recognition of his services to the Asian region, through outstanding professional and technical achievements in engineering, management and development and in appreciation of the significant contributions he made to the AIT and the Alumni Association. Eng. Fernando serves as a member of the Executive Committee of the AIT Alumni Association. He was instrumental in establishing the Sri Lanka Chapter of the Association and was its president during its formative years.
Eng. Shavindranath Fernando obtained a B.Sc. Honours Degree in Engineering from the University of Sri Lanka, Katubedda Campus in 1978. He completed his M.Eng. in Energy Technology at AIT in 1982.
He joined the Ceylon Electricity Board (CEB) and had a long and distinguished career that culminated with his appointment as General Manager. He was actively involved with the Ministry of Power and Energy of Sri Lanka. During the period from 1983 to 1987, he closely worked with the Senior Energy Advisor to the then President of Sri Lanka while serving as a member of his team that drafted key policy statements on energy which were to later benefit the entire country.
He worked in the Generation Division, the Energy Unit, the Planning Branch, and  the Projects Division where he played a leading role in implementing several generation and transmission projects, the cumulative investment of which was around 2.3 Billion US$. He strived relentlessly to introduce wind power to Sri Lanka, popularize solar PV panels to rural households and revive small hydro plants.
A significant milestone in his career was the completion of the 150 MW Upper Kotmale Hydro Power Project amidst many challenges. He was associated with the project from its inception including its engineering services study, detailed designs. He was responsible in securing environmental and legal clearances and funding for it. He worked tirelessly in overcoming many social, environmental and technical challenges to make this project a reality. In recognition of his untiring efforts in this regard, on the initiative of the incumbent priest of the Niyamgamdora Temple, the access road to the Power Station was named after him in 2019.

He served as the Chairman of the National Engineering Research and Development Centre, President of the Institution of Engineers Sri Lanka, during its Session 2013/14 and President of the Sri Lanka Energy Managers' Association, of which he was a founding member. He was fortunate to witness during his tenure as President of IESL, the Institution becoming a signatory to the Washington Accord after working towards it relentlessly with some of his predecessors.
As a visiting lecturer, he has been able to inspire and guide budding engineers of many universities and higher educational institutions in Sri Lanka not only on engineering subjects but also on engineering ethics and professional conduct. Eng. Fernando had represented Sri Lanka on many occasions at conferences and had been a member of many high-level delegations representing Sri Lanka at various forums. He has many technical papers on energy, environment and related topics to his credit.
He was the secretary general of the Sri Lanka Member Committee of the World Energy Council from 2006 to 2015. He has also served as a board member of several institutions. He was a member of the Presidential Experts Committee that prepared the National Sustainable Development Vision 2030 report.
Eng. Fernando in accepting this singular honour as a Sri Lankan engineer said, "I am humbled by this more than ever. I am proud to be an engineer, a Sri Lankan, an AIT graduate, a product of Sri Palee, Horana, Trinity College Kandy and Nalanda Vidyalaya, where my teachers instilled very high values in me and also the University of Sri Lanka, Katubedda Campus, where my lecturers and my beloved professors taught me the value of engineering, which made it possible for me to achieve this feat.
I thank God for this unparalleled blessing in my life. I was only a vessel in His hand and he made my country, my parents, my family, my siblings, my teachers, my friends proud."
The Institution of Engineers, Sri Lanka is truly proud of his achievements and wishes him well in all his future endeavours.