Talk to School - Nagoda Royal College, Galle
By ESL Young Members Section – Editorial Sub Committee 2020/21
IESL Young Members Section (YMS) conducted the third "Talk to School" program for the Year 2021 with the support of the IESL Ruhuna Chapter and the IESL - Ruhuna Engineering Students' Chapter of the Faculty of Engineering, University of Ruhuna. This program aims to build a better future generation; hence it comprises influential speeches for creating their future goals. The third program was completed on 06th April 2021 at G/Nagoda Royal College, Galle.


The program was started by lighting the oil lamp, and the welcome speech was done by the Vice Principal of the School, Ven. Gammaddegoda Padumajothi Thero. The program was started by Eng. Hemaka Lakmal explaining the purpose of the program. As the APEX body for the engineering profession in Sri Lanka, IESL needs to educate young students about the importance and the role of an Engineer in society. This program was done by Eng. Janaka Gamachchige and it gave a kick start for the program and greatly helpful for the students to identify who we are and the importance of the rest of the program. The third speech was conducted by Eng. Ms. Lakmali Karunanayake about energy management and electrical power in the world and as engineers how we can help to make a greener world.

Engineering undergraduates of the University of Ruhuna performed their aesthetic talents and entertained the gathering. Eng Thilina Dissanayake conducted a session related to personality development, attitude building, and leadership. It surely encourages school students and helping to build a positive attitude towards their education and life goals. Then Mr. Imanthaka Madushanka who is an undergraduate of the University of Ruhuna shares his university and life experience.

Eng. Nadun Wickramanayake conducted a speech related to Water and Environment. Mr. Asanka Madushan and the YMS Chairman Eng. Damith Dissanayake conducted sessions on Advance Level Examination and the financial, social, and other issues which badly affect the education of the students and how they can overcome those problems and succeed in their future goals.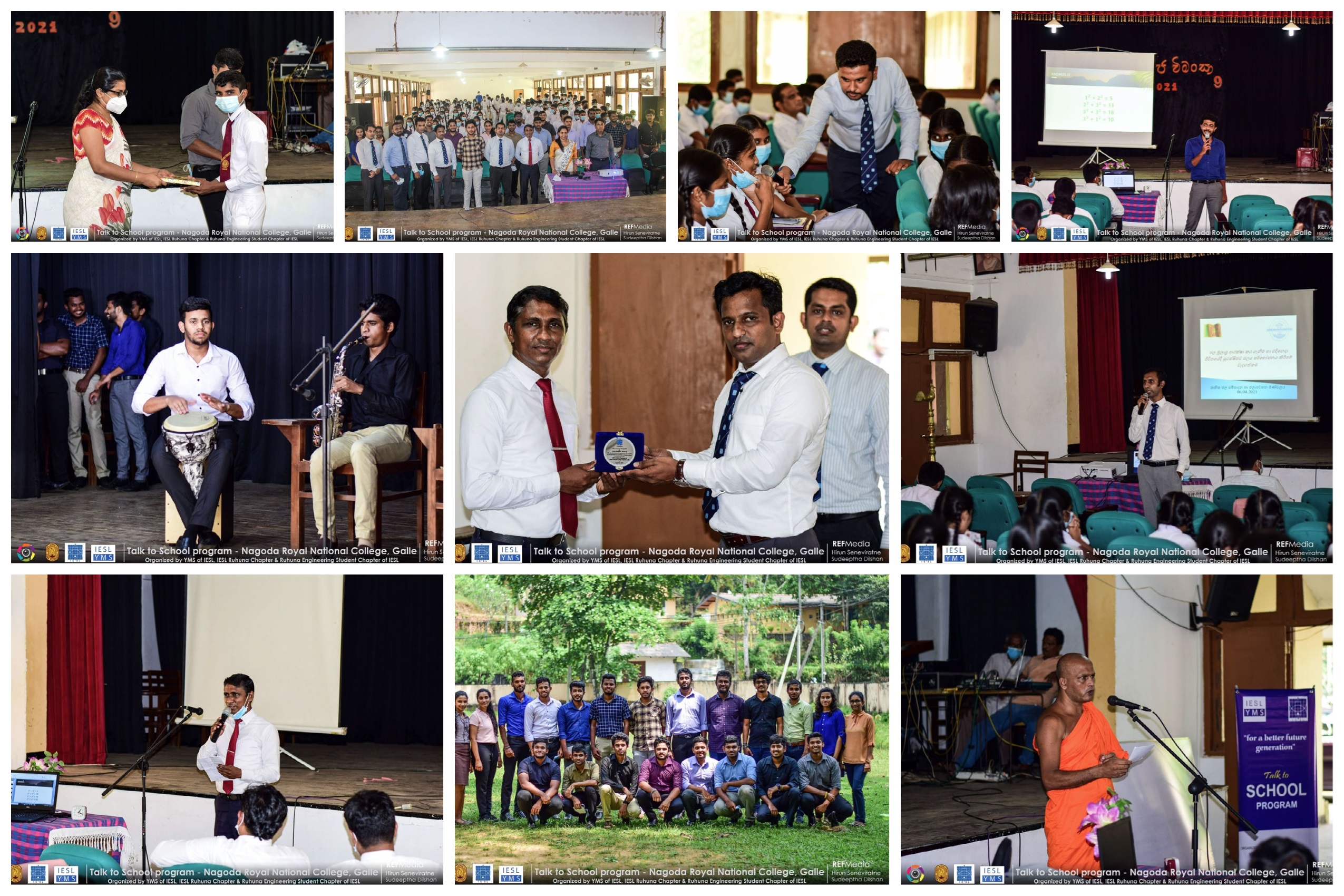 University undergraduates conducted an IQ test for the students, and gifts were given to the students who have shown their talents. Finally, Mr. Pubudu Sampath of G/Nagoda Royal College appreciated IESL and the IESL YMS for the Talk to School program and selecting their school and sharing our experience with them. IESL YMS would like to appreciate the support and cooperation extended by the principal of the Nagoda Royal College and a special token of appreciation was given by the Institution of Engineers Sri Lanka. We appreciate the immense service of the Institution of Engineers Sri Lanka to fulfill their social responsibilities as Engineers to create a better future for the next generation.
Photo Gallery - (20+) Facebook