The Annual General Meeting of the IESL Student Chapter of University of Moratuwa
By YMS
The Annual General Meeting of the IESL Student Chapter of University of Moratuwa was held on the 28th of March 2021 with great success via the zoom platform.

The occasion was honored by the presence of the president-Elect of IESL Eng. Arjuna Manamperi as the chief guest, Senior Treasurer and the Senior Advisor of the chapter Prof. Jagath Manatunge, Immediate past Chairman of IESL – YMS and Chairman of IESL- JIY Eng. Navodana Kankanamge, Chairman of IESL-YMS Eng. Damith Dissanayake, Immediate past Secretary of IESL – YMS Dr. Dulini Mudunkotuwa and Secretary of IESL-YMS Eng. Randitha Rajapaksha.

The AGM initiated at 5.30 PM along with the welcome speech by the immediate past chairman Mr Upeka Weerasekara and he emphasized how the AGM contributes to enhancing the fellowship among members. He also did not forget to highlight the importance of holding the Annual General Meeting, even amid the pandemic.

It is no secret that the arrival of the chief guest, President-Elect of IESL Eng Arjuna Manamperi, made the AGM even more special this time. Eng. Arjuna Manamperi brought together a vast knowledge on IESL Accreditation, IESL recognition in state universities, Washington Accords and Engineering Ethics throughout his speech. This undoubtedly made the AGM an oasis of knowledge for the participants who have joined across the country. The session was also enlightened by the speeches by the Senior Treasurer, and the Senior Advisor of the chapter senior Prof. Jagath Manatunge and Chairman of IESL-YMS Eng. Damith Dissanayake.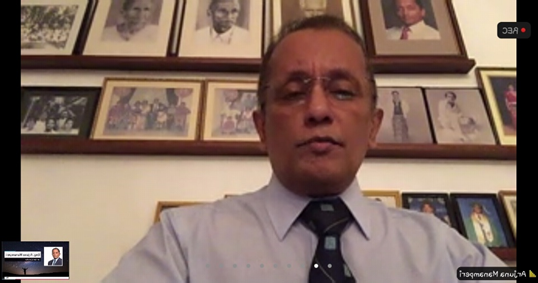 Following the official proceedings of the AGM the phase to elect the executive committee members initiated. The following members were elected as the executive committee of the IESL Student Chapter of University of Moratuwa for the reign of 2020/21.
Chairman –                         Mr. Rashan Maduranga
Secretary –                         Mr. Dilanka Rathnasiri
Chief Operating Officer –    Mr. Amila Premakumara
Treasurer –                         Mr. Gayath Dayarathne
Senior Editor –                    Ms. Janani Waduge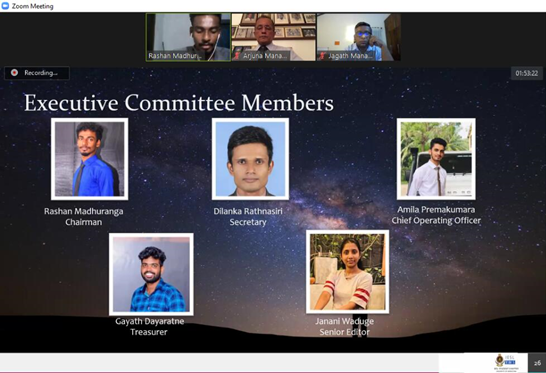 Accepting the COVID-19 challenge promptly when everything is happening virtually, the organizing team prepared digital certificates for the past office bearers and members to appreciate their services and distributed digital tokens of appreciation for the dignitaries that attended the AGM.

Marking the beginning of a new era for the chapter the AGM ended at 7.30 PM after taking a virtual group photo with the bright smiles of the participants followed by the vote of thanks by the newly appointed Chief Operating Officer Mr. Amila Premakumara.