INTRODUCTORY SESSION TO IESL YMS TECHNICAL CONFERENCE 2021
By YMS
IESL YMS Technical conference is one of the leading events which is organized by the Young Members section of the Institute of Engineers, Sri Lanka. This year, the conference will be held on October 2021, in parallel to the IESL annual sessions. This will be a great opportunity for all young engineering professionals below 35 years' age including student members of IESL to present their technical papers and discuss engineering-related topics with industry professionals and academia.

With related to the conference, an introductory session to the conference was held on 2nd of May, 2021 with the participation of about 250 participants as an online session. Four professionals joined with the session, Dr. Chamil Abeykoon, Dr. Chandana Jayawardana, Eng. Damith Dissanayaka and Ms. Praveena Dewapura. The moderator of the session was Dr. Samal Dharmarathna who is the Chairman of the IESL YMS technical conference. The main objective of the session was to give an idea about the importance of technical writing to the authors.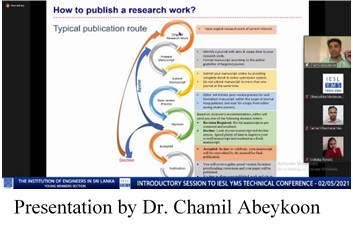 An introduction of the IESL YMS and the technical conference was done by Eng. Damith Dissanayaka, Chairman of the IESL Young Members Section. Dr. Chamil Abeykoon, from the University of Manchester, has given a valuable introduction on the importance of publishing and presenting research work and the way to do it. It was a valuable presentation for all the authors to understand the value and the importance of publishing research work.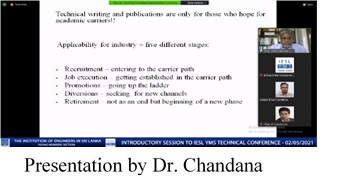 A valuable presentation on the Importance of technical writing from the industry point of view was done by Dr. Chandana Jayawardhana from the Open University of Sri Lanka. Dr. Chandana emphasized the value of research publication and how it affects the in industrial career.




Ms. Praveena Dewapura, a team member of the best paper award winner of last year's conference, shared her experience during the last year conference which was a good motivation for the authors.

Thereafter, the panel session was started with the moderation of Dr. Samal Dharmarathna. The panel session was focused on the questions raised by the authors during the session. It was a very valuable question and answer session with emphasized many important points for a researcher.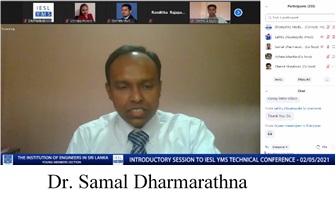 As the last event of the session, a brief introduction on how to make a submission using the easychair platform was done by Mr. Lahiru Dissanayaka, one of the editors of the IESL YMS technical conference. The event was very helpful for the authors when submitting their abstracts and also full papers to the conference.

The introductory session to the IESL YMS Technical conference was held as the first successful event of the IESL YMS Technical Conference. The Organizing Committee of the IESL YMS technical conference expresses their sincere gratitude towards all the parties who helped in numerous ways to hold the event successfully.