EDITORIAL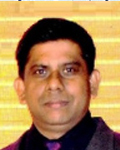 Eng. Suran Fernando  
The best way to predict the future is to create it
Dear Members & Readers,
An engineer should have the ability to apply appropriate theoretical and practical knowledge to the analysis and design of solutions to complex engineering problems. Thus, he or she should be able to comprehensively use science, mathematics and management principles coupled with knowledge and understanding of such problems to sustainably optimize the application of existing & emerging technologies. A proper blend of the creativity and subject knowledge is the key in this case. However, the present Sri Lankan context does not essentially demand an engineer to be creative and innovative. The design aspect has been replaced with the attributes like maintenance and administration of well-established and common situations.

This plight faced by the engineering profession will not only damage the spirit of engineering and engineers but also has serious negative repercussions on the socio-economic development of the country. As Einstein said, 'We cannot solve our problems with the same thinking we used when we created them', we need to explore new pathways for the progress of the nation defeating the challenges.

The consumeristic frenzy economy that we enjoy to the fullest is an economic bubble which can burst in no time. The consumption drive will increase imports while the less competitiveness in the market due to high inhouse labour costs and resource constraints has the tendency to decrease the exports. The net result is the increase in the negative balance of trade. This will increase the national debt and block the room for investments. This is the 'middle level income trap' that we are comfortably in for the last few decades. This macroeconomic problem is not that simple to be solved by the politicians. That's why we need doers, engineers who claim that they are capable of solving complex problems.

In order to get rid of this situation, there is no alternative other than going towards a manufacturing-based economy. Import substitution can be the first step. The manufacturing economy blended with high end technical service sector should be one of our goals. The silver lining in this dark cloud is that we are in possession of a high literate workforce that can be directed into these specific sectors. In this outset national level push to the Research & Development (R&D) sector is of vital importance. Research and Development (R&D) and entrepreneurship is a culture we need to develop in Sri Lanka. Engineers essentially have a fair stake in this. The Engineering Faculties of national universities and state or semi state organizations like State Engineering Corporation (SEC), Central Engineering Consultancy Bureau (CECB), Industrial Technology Institute (ITI), National Engineering Research & Development Centre of Sri Lanka (NERDC) etc. are some of the main institutes that can be effectively utilized to achieve this objective.

The expected economic development that needs to make this country a developed nation, could only be attained only if a vibrant domestic industrial base, with inventive and innovative culture, is established. As Kumarathunga Munidasa composed in 'Virith Vakia' ('විරිත් වැකිය'), there is no advancement for a nation that do not invent and innovate things ('අලුත් අලුත් දෑ නොතනන ජාතිය ලොවැ නොනඟී').

Engineers, you need to be engineers!

Stay safe & good luck!
Eng. Suran Fernando
Editor, SLEN
suran.fernando@gmail.com
editor.slen@iesl.lk


<

<