President's Message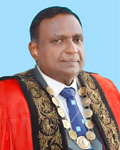 Eng. K. P. I. U. Dharmapala 
(Speech by the President at the 114th Annual Sessions)

I believe the following "quote" by His Holiness Pope Francis, is more appropriate for our engineers, who are having a social responsibility towards the society at large.
"Rivers do not drink their own water,

Trees do not eat their own fruits,

The Sun does not shine on itself and

Flowers do not spread their fragrance for themselves.

Living for others is a rule of nature. We are all born to help each other. No matter how difficult it is……

Life is good when you are happy, but much better when others are happy because of you!

Engineers Association of Ceylon, Started as a small gathering of working engineers in Anuradhapura in 1906, The Institution of Engineers, Sri Lanka today has become the largest engineering institution in the country  with the strength of a membership in excess of 20,000.

Being the premier professional body of engineers in Sri Lanka IESL is the only institution empowered to grant the Chartered Engineer status to those who have satisfied the requisite academic qualifications and professional experience, which is accepted within the country.

I never ever thought or had any intention of becoming the "President" of IESL, which is the apex body for the advancement of Engineering science and Practice of Engineering in Sri Lanka.

My parents, father was a Staff Officer attached to the Department of Labour and my mother was an English teacher not for a long time and later gave up the employment mainly due to the fact that she wanted to devote her time on her Children's education/ considering the living environment.

I started my primary education from the Kalmunai Sinhala Vidyalaya as it was the only school available for us to attend in that area. Though I am a Catholic/ I used to recite pansil standing behind the all other Buddhist students. When my father was transferred to Anuradhapura we all had to leave Kalmunai. Thereafter I was admitted to the Holy Family Convent in Anuradhapura and from there I was transferred to St. Joseph's College, Anuradhapura. Finally I entered St Mary's College, Negombo where I studied for ten years and thereafter gained entrance to the Engineering Faculty of the University of Peradeniya in 1974.

The motto of these last two schools are "Duty First" and the other in latin "Viam Sapientiae monstrabo tibi" and its English translation is "I will show you the way of wisdom". These two mottos had not limited to my school life. I strongly believe that I became a duty conscious person because of the motto of St. Joseph's College and as a follower of motto of my last alma mater St. Mary's College, Negombo,    I always used to share my knowledge and experience with my colleagues and also help who ever sought redress. I warmly welcome/ and extend my gratitude to Rev. Fr. Jayantha Wickramasinghe, Rector of St. Mary's College and two of my classmates since 1963, namely Mr.Lalindra Keerthisinghe and Mr.Xavier Nimal  Mello. Your presence is a great honour paid for an old boy of your school. Also I warmly welcome Rev.Fr. Dr. Jude Nicholas, Director General of the Dimuthu Foundation for coming here all the way from Chilaw to grace the occasion along with your busy schedule.

Thereafter I wish to pay my tribute to all my eminent superior Engineers under whom I worked. Dear Sirs you were always with me to guide and advise me and the giants' behind my success. Starting with
Eng.O.C Abeysekera-GM (C ),RVDB in 1978 who handed over my first appointment as a Civil Engineer-Thank you  very much sir, for your presence today. Also I wish to thank Eng. G.R.A. Rodrigo who was one of my Chief Project Managers   viewing this grand occasion online from Sacramento-USA.  
Dear Batch mates, Thank you very much for your greetings and best wishes and joining today to grace the occasion physically in the audience and through online. 
I also fondly remembered Late Engineers
Eng. M. S. M. de Silva, Eng. G. T. Jayawardene, Eng. Nihal Fernando, Eng, A.S.de Silva, Eng. D. D.  Mendis and Eng.M.M.A.Cader of RVDB
Eng. D. D. O. Paranegama and Eng. Dr. Ashoka de Silva   of RDA
Eng. K. D. S.Sevirathne and Eng B.V.D.W. Abeywardena of RDC Ltd.
Mr. Dion Jayasuriya, Managing Director of CML-MTD Construction Ltd. I warmly welcome and extend my sincere thanks to Mrs. Jayasuriya for your presence here today on behalf of your beloved husband Late Mr. Dion Jayasuriya.
My active and continuous involvements with IESL began in   2008. One day then Country Representative of ICE (UK) visited my place on an ICE official matter. Once the matter was sorted out, before returning to Colombo he said "Dharmapala, the ICE (UK) was entertaining applications for Professional Review Panelist. Why don't you apply? I then applied responding to his request. Three persons, including myself were selected from Sri Lanka to the ICE (UK) PR panel. All three of us received training in Hong Kong. Thereafter we frequently participated in Professional Reviews held in Hong Kong, Chennai and Sri Lanka as panelists.

The thought that I was extending my services to a foreign Institution rather than serving in an Institution in my motherland came into my mind. Finally I submitted a written request to the then ES of the IESL, Miss Arundathi to grant me an opportunity to serve as a PR Panelist where she responded to me without any hesitation. This was the turning point in my life. The Country Representative of the ICE (UK) who was the main icon behind this entire process, is none other than one of our Past Presidents Vidyajothi Prof. Dayantha Wijeyesekere. Thank you sir for supporting me in all these initiatives.
Eng.Wimalasena Gamage (PP) is the next person who suggested that I should contest to the Council Election, which I did not initially favored. However, later I agreed to respond to his request and contest the election. The journey then began as a Representative Fellow grade for the council in 2013 unbeatably brought me up to the Position of President. 

Today, I am Inducting as the one hundred and fifteenth (115th )President of the Institution of Engineers, Sri Lanka for the session 2020/2021 .

I believe that becoming the President of our prestigious institution is the pinnacle one can reach  as proud engineers of this country. I also believe that the mandate given to me to serve as the president of the Institution of Engineers, Sri Lanka   is the highest honor bestowed on me by our membership.

While I take this opportunity to offer my sincere and humble gratitude to all of you  for electing me to such an esteemed position,  I wish to assure you that I would safeguard the trust and responsibility you have placed on me.

I also believe that you will acknowledge the fact that without your valuable support and contributions it will be a difficult task for me to properly discharge the responsibilities and duties of this supreme institution which is considered  the   ancestral home for all of us.

In this respect I am always prepared to give an ear to every one of you without any hesitation for productive views and ideas.

I would welcome the views and advice of all the Past Presidents without any hesitation and shall consider all of them as my advisors.

I wish to render the following services for the next session. In this respect, I earnestly solicit the  unstinted support of all of you on behalf of IESL.

I strongly believe Engineers should actively engage more in addressing National issues in a wider context. In this regard I intend making ourselves available to the decision makers in formulating National Policies especially in areas such as Transportation, Construction, Energy, Education etc.
I would extend my support to encourage young engineers towards more invention, innovation and entrepreneurship who would succeed in facing  challenges.
I shall endeavour to make the IESL secretariat to be even more member oriented, efficient and productive. Systems and processes of IESL shall be reviewed and established. This will attract the majority of members who now maintain a distant relationship with IESL to actively join in the affairs of the Institution. /Action will be initiated to address the grievances of the secretariat staff.
Another priority will be to develop Provincial Chapters and the Overseas Chapters of the Institution to address their needs. Collaborate effectively with IESL District Centres, a Provincial and Overseas Chapters to dynamically involve under the IESL umbrella.
With my experience as the Chairman, Education Standing Committee for two consecutive sessions I shall look forward to strengthen the quality and relevance of Engineering Education nationally and uplift the Continuing Professional Development of our members with the expertise in this area of our Members in academia and Industry by collating the best of both.
Improve the quality and standards of PR process and promote young members to become Corporate Members of the Institution nurturing them to improve their technical competencies, professional skills,  values and ethics.
It is my strong belief that the newly elected council members and all  the staff of the IESL Secretariat will work together with me as one unit in order to achieve our common goals  for the betterment of the IESL and National Development which will finally benefit the society at large.

We all are volunteers to achieve these common goals as one team. There may be disagreements or different views amongst us but this does not mean it should result in conflicts.

It is only then we as one unit can openly and frankly discuss the various issues to arrive at common conclusions. Then only, we as one cohesive unit will be able to move our Institution from good to great. 

Before concluding my speech time has come to remember a few very important persons whom I have not mentioned earlier.  If I failed to do so, then I will be the most ungrateful person to all of them.

තමාසතු සියල්ල බොහොමයක් මා වෙනුවෙන් කැපකළ මා ආදර පියාණන්ද, දස මසක් කුසෙහි හොවා ලේ  කිරිකර  පොවා ඔබේ  දෑස මෙන් මා රැකගෙන ගුණදහමින් මා පෝෂනයකළ මා ජිවිතයේ මට මහමෙරක් වූ මාගේ ආදරණිය මෑණියන්ද මාගේ මවගේ වියෝවෙන් පසු එම හිඩැස පුරවා ඔබගේ හදිසි වියෝවතෙක් මා ලඟින් රැඳීසිටි මා දයාබර සොහොයුරියද මේ අවස්ථාවේදී ගෞරව පුර්වකව සිහිකරමි.

මා සමග ජීවිතය බෙදාගනිමින් එදා මෙදා තුර මාගේ සියලු කටයුතු වලදී මා හට අප්‍රත්‍ය ශක්තියක් හා ධෙෙර්යක් වී මා පසුපස සෙවනැල්ලක වී සිට මා හට දිරිය දුන් අද මෙමෙ සභාවේ අසුන්ගෙන සිටින මගේ දයාබර බිරිඳ හටද  අනේකවාරයක් ස්තුති පුදමි.

Finally, I pledge to discharge my Duties in accordance with the By-Laws of the institution and highest professional standards with the continued support and blessings of Council members, the Membership and the Past Presidents.
Thank you very much.
Wish you all a very Happy and Prosperous New Year!
Eng. K. P. I. U. Dharmapala
President (2020/ 2021)