President's Message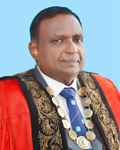 Eng. K. P. I. U. Dharmapala 
Dear Members of the Institution, Staff of the Secretariat and readers,
The World Engineering Day is celebrated around the world on 4th March of each year from 2020. The World Engineering Day for Sustainable Development was declared by UNESCO at the 40th General Conference held in 2019. The declaration was to provide an opportunity to celebrate and highlight the engineering achievements and to improve the public understanding of how closely engineering and technology is related to our lives and how it can be utilized to achieve sustainability.
The theme for the World Engineering day 2021 is "Engineering for A Healthy Planet" which is focused mainly on celebrating the launch of the 2nd UNESCO Engineering Report "Engineering for Sustainable Development: Delivering on the Sustainable Development Goals". The report highlights the role of engineering in sustainable development in the agenda for 2030. Some of the common issues engineering has faced such as gender equity in the engineering profession, shortage of engineers, showcase of innovations and inventions, implementation of SDGs, engineering education and capacity building and regional trends of engineering development are also highlighted in the report. Finally, it gives recommendations for developing engineering for the SDGs, and calls for global cooperation with multiple stakeholders to promote development of engineering for the SDGs.
In this regard the World Engineering Day celebration in Sri Lanka is organized by the IESL jointly with SLAAS and IEPSL. The theme for this year's celebration is "Towards Achieving Sustainable Development Goals: The Industry Perspectives". An expert panel in key industries such as Energy, Water, Construction and apparel are contributing to this event with their insights on how we can achieve sustainable development goals through engineering.
UNESCO has identified several different ways how engineering and engineers can contribute to achieve SDGs.
"Engineers and engineering projects are essential for a peaceful world as it is engineers who will develop and implement technologies and systems that will progress the UN Sustainable Development Goals as they relate to water, energy, environment, sustainable cities, natural disaster resilience, and other areas. This is essential for inclusion and to address unequal access to these technologies which results in income inequalities.

Engineers are essential for resilience to climate change and to design and develop resilient infrastructure that will withstand the increasing weather-related events – floods, cyclones, and bush fires especially in developing countries that are most exposed to these risks.

Engineers are essential for sustainable economic development as they are needed to support the growth and development of essential infrastructures such as roads, railways bridges, dams, waste management, water supply and sanitation, energy and digital networks in both developed and developing countries.

Engineers are needed to develop inclusive technologies and innovations that will benefit people and the planet for greater prosperity and better quality of life and leave no one behind, especially to ensure equal access to technology for women and in rural areas".
While celebrating the world engineering day I would like to urge you all to incorporate SDGs as outcomes of your projects and designs. Sustainability is the way forward. Without achieving sustainability, we will not be able to survive on this earth.
Thank you very much.
Eng. K. P. I. U. Dharmapala
President (2020/ 2021)



Share