"Drive Smart, Save lives" Program by CESC of the IESL
BY PUBLICITY DIVISION (IESL)
In a moment when center of attention is taken by Covid 19 global pandemic, as professionals in the field, Civil Engineering sectional committee (CESC) of the Institute of Engineers Sri Lanka (IESL) has launched an awareness program "Drive Smart, save lives" regarding road accidents to the general public and also to the Engineers.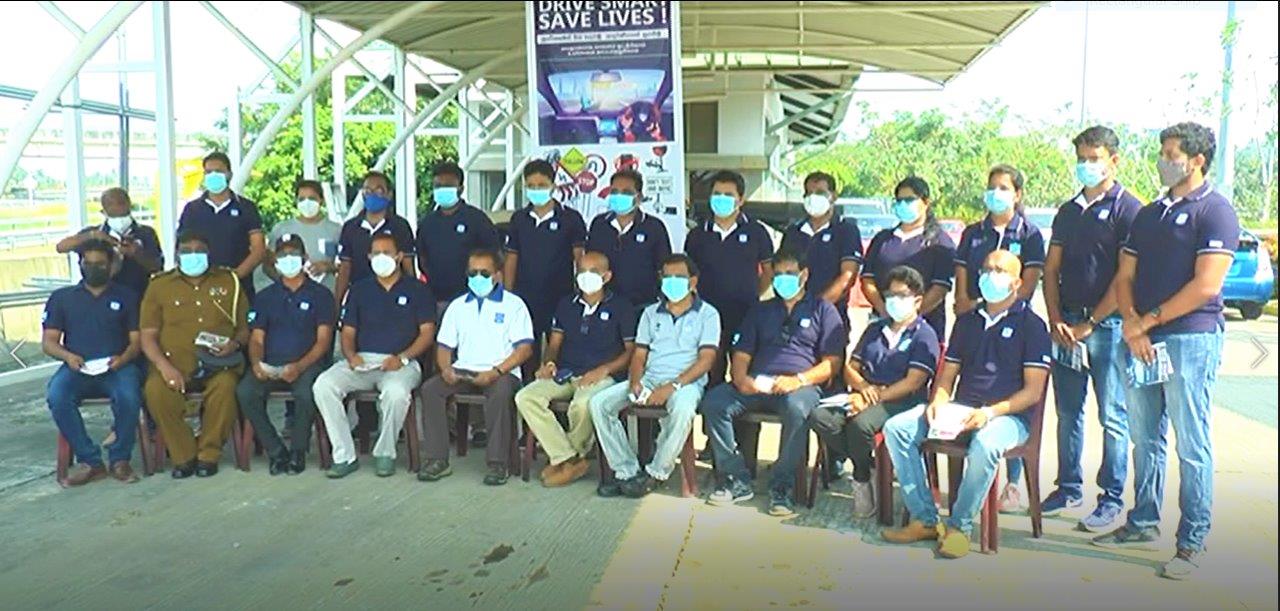 The event was held at the Kottawa Expressway interchange on 14th February 2021 from 8.30 am to 11.30 am.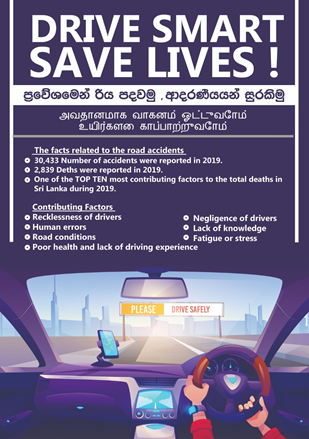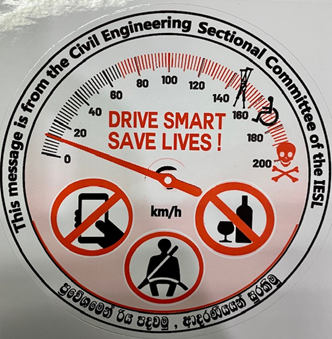 As per the statistics, in 2019, a total of 30,433 motor accidents were reported, claiming the lives of 2839 people. In fact, road accidents are within the top 10 most contributing causes of total deaths in Sri Lanka. There are many contributing factors to the occurrence of such incidents. Recklessness of drivers, lack of knowledge, fatigue or stress, human errors, road conditions, poor health and lack of driving experience are few contributing factors among many possible root causes. With accident related data it is conclusive that vehicle accidents result in affecting human lives and economy in a significant manner. In conclusion, it is imperative to take necessary actions to avoid such incidents as much as possible. CESC has intended to conduct the program in different stages by following various strategies to enhance the knowledge, discipline of the general public. In addition, more importantly, CESC is engaged in increasing engineers' contribution to reduce accidents by identifying root causes and providing engineering solutions.
In order to commence the "Drive Smart, save lives" program, CESC has distributed an informative flyer and windscreen sticker among the general public as the first step of the said program at the Kottawa Expressway interchange. In addition, a brief discussion was held with the presence of experts in the field at the event location.
Road Accidents in Sri Lanka
A person is killed every three hours on our roads due to road accidents, and annually 3000 persons die in road accidents. Nearly 8000 serious accidents take place annually, and in many instances the victims end up never to lead a normal life again. In the last four years – in 2016 there were 3017 fatal accidents, while in 2017 it was 3147. In 2018 according to World Health Organization (WHO) data, Road Traffic Accident Deaths in Sri Lanka was 3590, and has been identified as the 10thcause of death in Sri Lanka's top 50 causes of death, beating other serious diseases causing death in the country. In 2019 there were 2851 fatal accidents.

Drivers of motor vehicles need to be responsible and realise, the moment he/she sits at the driver's seat and holds the steering wheel you are in control of a piece of heavy equipment, at high speed is mere seconds from a potential innocent victim. Furthermore, speed, while greatly increasing the risk of serious crash, increases the odds of an accident and increases its severity.

A driver under the influence of alcohol is as deadly, and similarly at risk of serious accidents. The harmful influence alcohol has on the crucial decision to drive is great. Drinker's self assessment about whether he/she can drive safely is critical. The deadly influence alcohol has on the driver is great. Alcohol impairs the drinker's ability of self-assessment. Reduces the driver's ability to react to things that happen suddenly. The alcohol also blurs vision, impairs attention and reflexes are slowed.

The road accidents having reached such a horrendous proportion, random measures to instil road discipline in errant drivers are not effective. Speeding, reckless driving, and driving under the influence of alcohol are the major causes of serious traffic accidents. The Police launching limited enforcement and special operations during festive seasons, and operations targeting certain Police areas or specific Traffic Rule violations, are not enough to address this tragedy. Police must implement comprehensive long term programmes, employing technology and modern devices to detect traffic rule violations and make roads safe for all road users.

According to Colombo Traffic Police, there are 106 CCTV cameras operating in Colombo and use 3 Mobile CCTV Surveillance Vans to monitor traffic. Surveillance of Colombo using the Road Safety Camera system alone is not sufficient. Road Safety Cameras; Red Light violation detecting cameras, and combined Red Light and Speed cameras can detect a host of Traffic Rule violations. Sri Lanka Police should seriously consider expanding this method of surveillance using the Road Safety Camera system countrywide.

Road Safety Cameras installed at intersections in all cities and major towns, at strategic locations and high risk roads along the country's entire road network, would be a deterrent to speed maniacs, and other road rule violators who know they are being watched all day and night. These cameras can be used as both detective and preventive measures. It's a 24/7 surveillance.

The camera captures a host of data including the vehicle number plate, date, time and location of the offence etc., sufficient to prove the offence committed by the driver. In addition, mobile cameras mounted on Police vehicles positioned at strategic locations, and hand held cameras, could be used to book speeding drivers and other road rule violations. As for alcohol-impaired driving, the government can do more to reduce the number of drunk-driving instances. Couple of years ago the National Authority on Tobacco and Alcohol (NATA) proposed to reduce the maximum Blood Alcohol Concentration (BAC) level of drivers; at present it is 0.08 grams per 100 mm, to 0.03 grams per 100 mm. There is no indication thus far of any initiative of the government taken in this regard. Australia and most European countries have the BAC level of drivers at 0.05. Norway and Sweden in Europe, and China has this level at 0.02, while in Russia it is 0.03. Canada, USA and some countries have it at 0.08.

The government could look into lowering the legal BAC level to 0.03 as proposed by the NATA. This approach would better respond to discouraging drunk-drivers. The government could also consider making instances of driving while exceeding the legally permitted BAC limit, a criminal offence; initially applying it to drivers exceeding the legally permitted BAC level and meeting with accidents, and finally extending to exceeding the permitted BAC level under any circumstances, a criminal offence.

Clearly, the law can't work on its own. The key factor in the reduction of Traffic Rule violations is enforcement and stiff penalties. Police should be provided with technology and modern devices used in other Police Forces around the world. Police should be given authority to stop and demand to undergo testing from any driver at the roadside more often, rather than testing after accidents occurred.
Next Step
Furthermore, as the 2nd event of the program, a panel discussion will be conducted at the beginning of March 2021. Both events will be recorded and broadcasted later via EVENT TV. In addition, the panel discussion will be broadcasted as a live event via IESL YOUTUBE channel.